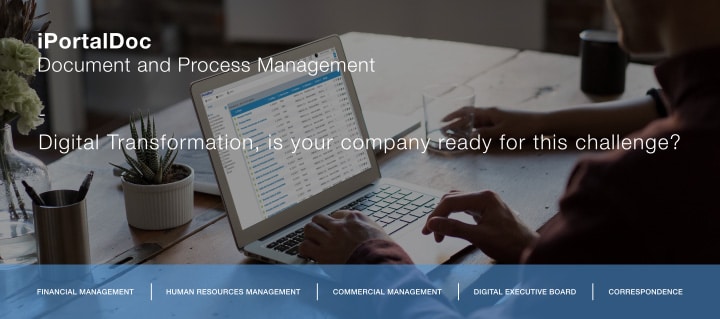 Digital Transformation, is your company ready for this challenge?
Digital transformation represents a unique opportunity for companies
to transform their business, reducing costs, being more efficient in the management of their processes and, therefore, more competitive in the market.
If you don't want to "lose this train" and you want to start the digital transformation of your company, we suggest that you try iPortalDoc [www.iportaldoc.pt/en]. iPortalDoc is a powerful tool of Document and Process Management with Workflows, manufactured in Portugal. It operates On-premises and in Private Cloud and it is prepared to help all types of companies and institutions in this digital transformation process [How to use iPortalDoc].
It allows you to insert documents, associate them between themselves or to emails, forward one or several documents simultaneously, with or without a pending action, link them in different folders or consult associated documents. But these are just a few of the basic functionalities that you can try if you ask for a free account to test the solution.
In addition to this functionalities, iPortalDoc provides you 10 basic processes, with 22 completely configured workflows which are transversal to most companies/organizations: Financial Management [Supplier Invoices, Supplier Orders, Electronic Invoicing with Digital Signature], Correspondence Management [Received and Sent Letters], Human Resources Management [Absence Reports, Vacations, Expenses], Commercial Management [Proposals], Legal [Legal Contract, Supplier Contract, Human Resources Contract]. Watch the several videos here.
Don't miss this opportunity to transform the way your company/organization works, with iPortalDoc, and ensure:
– Document and process management based on workflows
– Automation and standardization of business processes
– Document dematerialization (digitalization of processes)
– Sending of Invoices in electronic format with digital signature
– Standardization of documents, archive criteria and procedures
– Control of documents/processes versions
– Integration with ERPs, CRMs and OCRs
– Management of the email archive
– GDPR compliance
– Platform that provides access to external entities (login/password)
– Support for mobile devices